AERATION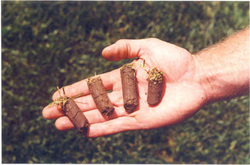 Core aeration, is the process of mechanically removing small plugs of soil and thatch from the lawn to help improve natural soil aeration.
Here Are Some Benefits of Lawn Aeration
Improved air exchange between the soil and atmosphere.
Increased soil microbe activity.
Better soil water uptake.
Increased water infiltration.
Reduces water runoff and puddling.

Stimulates new root development.
Soil compaction is reduced.

Higher tolerance to heat and drought stress.
Improved turf thickness and overall health.
More resilient and cushioned.
Better thatch breakdown.
Most commercial and home lawns have insufficient topsoil due to it being removed during construction. The grass is forced to grow in compact subsoil that is higher in clay content and less likely to sustain a healthy lawn. The soil becomes even more compacted from walking, playing and even mowing. Rain and irrigation compact the soil even further, and reduce air spaces where the roots grow.
Lawn aeration relieves soil compaction which allows your grass to grow deeper roots by allowing air, water and fertilizer to reach the root zone. This all stimulates good root development which is the key to a healthier lawn with strong turf grass plants.
The best time to aerate your lawn is either the spring or fall. If aerating in the spring, time it somewhere between late April or early May, always being careful not to be on the lawn too early if it hasn't dried up properly. If aerating in the fall, plan between September and October.
Once the aeration is complete, your lawn will be dotted with small plugs that have been pulled from the soil. Within a week or two, they should break down and disappear into the lawn.
---