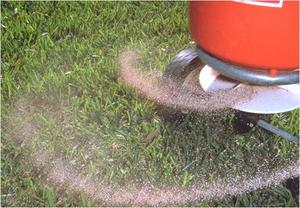 It may be late March but spring is definitely in the air and people's minds (and hearts) are turning to their lawn and garden. With this in mind, over the next few weeks you'll want to think about what to do in order to be season-ready.

The soil beneath the turf is the single most critical part to growing great performing turf. Your choice of fertilizer has a huge impact on the living soil food web and its ability to keep your turf healthy and in top shape.


Here's our To-Do List:

1. Do stop using synthetic fertilizers. Synthetic fertilizers are inorganic water-soluble salts providing "instant gratification" food for plants. Pour enough of it on a living organism and you'll kill it. This includes the microbial life in the soil food web. Overtime, the soil food web's ability to function is suspended. Your turf will need more fertilizer, more often. The root system won't grow deeper to look for water and nutrients so becomes increasingly dependent on inputs. Nutrients not taken up by the plant (most of them) get washed away with the next irrigation or rainfall and are flushed into the watershed or sewer system to cause environmental issues.

2. Do use organic fertilizers. Organic fertilizers have a slow release system. Yes, organic fertilizers have smaller numbers on the package, i.e. 9-3-3. These numbers indicate the amount of immediate available nutrients to the plant. The rest of the nutrients are in an inorganic form and are not available until the plant requests it from the soil microorganisms. Think of it as a food delivery service. Much like a walnut shell needs to be cracked before the nut can be removed and eaten, inorganic nutrients need to be 'repackaged' by soil microorganisms. A 9-3-3 organic fertilizer is the equivalent to about a 27-9-9 conventional fertilizer; the difference requiring a food delivery service.

3. Do feed your soil. Turf that is in transition from one that is dependent on fertilizer for nutrients to one that is dependent on the soil microorganisms for nutrients usually needs a little extra TLC. Until the soil food web has recovered, you may need to provide an additional boost to the turf if it is showing stress. Once functional, the soil microorganisms will encourage plant roots to follow it and grow to deeper levels for stored nutrients and moisture. Until then you may need to fertilizer a little more often, or better yet add soil enhancements to your fertilizer program.

Remember it takes time to reestablish the soil food web so don't be rushed. We tell our clients that depending on how long their soils have been receiving synthetic fertilizers it can take as many as 3-4 years to build up their soils to where they are becoming sustainable.