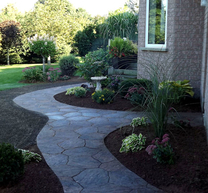 Lawn Stylists is your local landscaper. Lawn Stylists is a full service Landscape company with many years of experience. We provide services for all phases of landscape construction and installation. We are dedicated to meeting the growing needs of the community through efficient and cost-effective methods. Our complete landscape installations include paving stone walkways and patios, stone garden bed retainers, sod, and trees and shrubs. Since 1992, we have been creating beautiful, affordable landscapes for our clients. Our years of experience and our specialized customer service sets us apart in the industry. We pride ourselves in providing quality landscaping to our clients. Our landscaping services include:

* Paving stones/interlocking brick patios, walkways
* Natural flagstone paths and patios
* Retaining walls and stone garden bed retainers
* Planting of Trees and Shrubs
* Underground sprinkler systems
* Thinning out perennial or shrub beds
* Sod installation

Landscape Installation
Lawn Stylists can help you with a practical, functional landscape for you, your business or your family. We can provide you with friendly, helpful landscaping advice , and help you choose trees and shrubs, perennials and annuals for your property. Give us a call to arrange a no cost landscaping consultation and estimate. We will be happy to meet with you.

Service and Quality
We love to landscape and it shows. We enjoy working with our clients to help them create a great landscape. Our dedication to service sets us apart in the Industry. Weather you are looking for commercial, back yard or front yard landscaping, our quality landscaping installations will give you lasting beauty and leave you knowing you chose the right landscaper. At Lawn Stylists we pride ourselves on on- time installations and we complete our landscaping projects quickly and efficiently with no unnecessary delays.

Competitive landscaping pricing
We guarantee very competitive landscaping pricing, so you know you won't be paying too much for your landscaping project. Our experience has helped us to become a very efficient landscaper with minimal overhead, so we can pass those cost savings on to you.


---