Lawn Stylists Sustainable Solutions Lawn Care Tips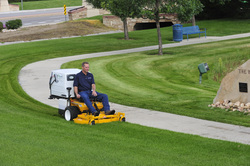 1. Mowing
Mowing your lawn too short and too often will do more harm than good. Commercial and Home lawns should not emulate golf course greens, the grass species in those areas are specialized turf grasses which tolerate a low height of cut. By mowing too short you are "stressing out" your lawn, affecting the plants ability to absorb sunlight and reducing it's rooting depth. This stress makes your lawn susceptible to the effects of drought as well as weed, insect and disease infestation.
Key Tips for Mowing
:
Mow High
Higher heights of cut allow for a healthier stand of turf. Leave grass approximately 2.5 to 3 inches high during spring and fall, in the summer months allow it to grow to 4 inches. A good rule of thumb, to ensure you are not placing undue stress on your lawn, is to remove no more than 1/3 the length of grass blades at a time. For example, if the grass blades are 4.5 inches high, then cut them down to 3 inches in height.
Mowing should be dependent on the vigor of grass growth. In Winnipeg and the surrounding area grass will need more frequent mowing during June and July. Grasses will slow their growth during the heat of summer, Allow your grass to remain higher during extended drought periods, this allows the root system to extend further into the soil to seek moisture.
Mow Sharp
By mowing your lawn with a dull blade, you will tear the grass blades,leaving them more susceptible to disease occurrence. If using an electric or gas mower, sharpen blades once a month
.
Mow Dry
Mow the lawn when it is dry for a cleaner cut and to reduce the risk of disease.
Grass Cycle
By removing clippings you are taking away stored nutrients, especially if you do so after any sort of growth spurt. The nutrients your lawn has drawn to it's tip should not end up at the landfill. Let your clippings fall, the nutrients will be returned to the soil when they break down.
Please note, clippings are not a significant contributor to thatch buildup. Clippings are made up primarily of water, thatch consists mostly of fibrous tissue such as stems and roots.
2. Watering
In most years lawns will not require much in the way of supplemental watering, Yearly rainfall in Winnipeg are often adequate to meet the needs of your lawn's growth habit. Winnipeg and surrounding areas are in a cool season turf area, most grass growth will occur during spring and early fall. During the summer months cool season grasses naturally slow their growth. During drought periods grasses will induce dormancy, turning brown, but will recover upon the first rain. You may wish to provide some water to your lawn during periods of prolonged drought to ensure that insects that prefer dry conditions are kept at bay.
Appropriate times for supplemental watering are during seed or sod establishment. Seeds requires a consistent moisture level to germinate, newly placed sod has yet to establish a root system and therefore must rely on water near the soil surface.
When you do water please remember:
Water in the morning
Avoid watering in the heat of midday. Afternoon temperatures will result in losses to evaporation while winds will cause drifting away from targeted areas.
Water Deep, and Less Often
When starting grass from seed or establishing sod your lawn will require more frequent, light watering until root systems develop. Once established watering too often and too shallow will cause shallow root development, weakening your lawn's defenses against drought and weeds; you can also risk scorching roots that are too close to the surface.
3. Aeration
In Winnipeg, we have heavy, clay-based soil that is prone to compaction. Soil compaction leads to poor drainage, decreased permeability and low oxygen levels, all which inhibit root growth.
Aeration
is the process of loosening soil to reduce compaction allowing more water, nutrients, air, and sunlight into the ground which promotes a stronger root system and therefore a healthier stand of turf.
Aeration
is best done during the growing season, either in the spring or in the early fall, and to further benefit the soil should be done at the same time as
topdressing
.
4. Topdressing
Topdressing
is the process of spreading a soil amendment such as compost or topsoil. When done after aerating, the topdressing material can be worked into the soil and improve it's texture. A clay based soil with added compost will become more friable which will allow more water, nutrients and organic material to penetrate into the ground.
5. Composting
Composting
is the natural process of breaking down organic material, such as kitchen and yard waste, to produce a nutrient-rich, soil-like material. The process works with the help of micro-organisms such as bacteria and fungi combined with air and moisture.
Compost is:
nutrient-rich,
aids in breaking up soils heavy in clay
makes weeding and planting easier because soil is less compact
reduces soil erosion and run-off due to better drainage an moisture retention
has loads of beneficial microorganisms necessary to your lawn's ecosystem
diverts green waste from landfills, and cuts down on methane build-up
6. Over seeding
Over seeding your lawn will help to rejuvenate areas with bare or sparse grass cover due to traffic wear, pet damage or environmental conditions. Over seeding can be done spring and/or fall to ensure your lawn maintains it's density and vigor.
As mentioned above when over seeding you may wish to consider a low maintenance grass species. If the areas you are having trouble maintaining are under the shade of trees or in high traffic areas, fescues will be a more appropriate choice.
Over seeding should be attempted in cool weather, such as May or September and is easily done in conjunction with topdressing. Make sure to rake seed into compost or topsoil and tamp the seed bed to ensure good soil to seed contact. It is that contact which will allow seed to take in water and begin the process of germination.
Keep over seeded areas moist through regular watering. Most seed varieties take between one to two weeks to germinate and will need to be kept adequately moist throughout that period.
Juvenile grass will need some continued attention while root systems develop. Supplement rainfall shortages with watering to apply approximately 1" of rain per week. Keep traffic off young grass seedlings as they have yet to develop a capacity to tolerate wear.
7. Fertilizing
Many lawns can be kept healthy without the need of additional fertilizer. Yearly additions of compost will add nutrients and will help to release nutrients tied up in existing soils.
Returning your clippings, rather than bagging and removing them, will help to maintain a cycle of fertility.
Common synthetic fertilizers do provide a quick boost to growth but have a negative effect on nutrient and biological diversity in the soil.
Make a shift towards organic fertilizers that consist of nitrogen sources such as kelp. These fertilizers will break down more slowly and will enhance microbial activity in the soil. These microorganisms help release nutrients tied up in soil, making them available to plant roots, and aid in breaking down thatch.
Turf grasses typically require 3 lbs of Nitrogen per 1,000 sq ft each year. That amount can be delivered in two or more applications. The best time to make an application is prior to a predictable growth spurt such as in early to late spring or at the end of summer.
Fertilizing with organics can be done in conjunction with aerating, topdressing and over seeding.
8. Spring and Fall Clean Up
Your lawn will benefit from a thorough cleaning twice a year. Raking to remove debris and excessive thatch will help keep your lawn healthy and vibrant. A mechanical de-thatching machine, or power rake, can be helpful in removing heavy thatch build up. While thatch is important, providing some wear tolerance and water conservation, too much thatch will effect air and water infiltration into the soil and provides habitat for pest species.
Spring Raking
simply entails removing any remaining leaf litter or debris after the snow has melted. In order to prevent snow mold from developing on your lawn, you can break up and disperse any patches of snow that are taking longer to melt.
Fall Raking
is the removal of all the heavy leaf cover, and any thatch that has developed to an excess of ¼ inch thick. This is to improve soil ventilation and discourage pests from nesting in the thatch layer. Once this debris has been cleared, a ¼ inch of
mulched
leaves can be re-applied onto your lawn.
9. Weed Control
When it comes to weeds, a little tolerance goes a long way. Many plants that are commonly thought of as weeds (like clover, buttercups and dandelions) are actually beneficial to the health of your lawn.
If any weeds become a problem, (and you've passed your tolerance point for them), the best method of control for the organic gardener is to hand pull them. There are now plenty of weed removing tools designed to make the job less daunting and easier on your back! Always make sure to try and get as much of the root as possible, striving for at least 80%, to prevent weeds from coming back.
---