COMPOST-TEA - ACTIVELY AERATED COMPOST TEA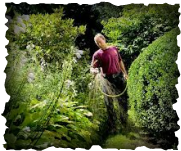 COMPOST-TEA fertilizer is a signature component of
Lawn Stylists Sustainable Organic Solution
. We are pioneering the use of ACT (Aerated Compost Tea) as part of your overall Landscape Maintenance in Winnipeg and the surround areas. Our
COMPOST-TEA
is brewed right here in Winnipeg and contains various sources of organic matter such as earthworm castings.
---
ORGANIC GRANULAR FERTILIZER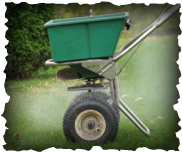 We utilize an organic based fertilizer that is good food for your soil biology. The soil holds nutrients in a manner that allows those nutrient and others to be available to the plant when the plant needs them. The fertilizer poses no contact problems for the applicator, children or pets. All biological activity and nutrient cycling improves the soil and makes it easier for plants to thrive. It's the soil that makes the difference in the health of your lawn. Researchers, scientists and turf managers around the world are recognizing the incredible benefits of a biologically active soil.

---
AERATION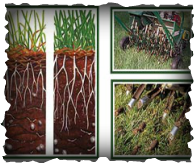 Lawn aeration
consists of removing soil plugs to a depth of 1 to 2 inches over the entire lawn. This improves water and air penetration to the turf grass roots. This service is provided in the Fall and/or the Spring.
---
TOP DRESSING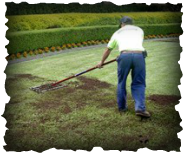 Top Dressing with
a quality topsoil mix or
premium compost which is a blend of various high grade plant based composts. Not all compost is created equal. Use of good compost will help restore our soils and ensure a fertile future for your lawn.
This Premium Compost is engineered for making our
Compost-TEA
fertilizer and contains a multitude of beneficial bacteria, fungi and organisms beneficial for a healthy lawn. Top dressing your lawn Spring and/or Fall along with over seeding will help to improve the existing soil. This benefits the lawn by feeding the soil with essential nutrients and microbes to make it thrive.
Combining top dressing with core aeration, overseeding and/or dethatching is an excellent way to enhance your lawn. Regular topdressing is also a great way of improving drainage in clay soils, and improving moisture retention
---
LAWN OVER SEEDING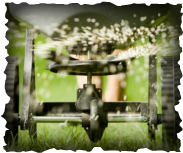 In Winnipeg our lawns are composed of cool-season grasses. So during our summers our lawns well take a beating from the heat. Our grasses crave the cooler temperatures of spring and autumn. But there's something you can do to undo summer's assault by overseeding your lawn.

Over seeding lawns is just what it sounds like. Namely, you're sowing seed over existing grass, in order to fill in the bare patches and help thicken up your lawn to choke our weeds. Therefore, with Manitoba's ban on chemical weed control overseeding makes sense as part of an overall organic lawn care program.

---