CHINCH BUGS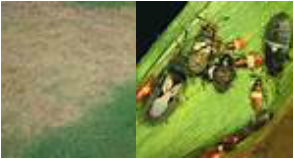 Has your lawn been damaged by Chinch bugs. These pests appear in our lawns in mid June. They live in the thatch and use it as a home. Lawns with excessive thatch will be more prone to Chinch bug infestations. Our natural Sustainable lawn care solutions assist in the breakdown of thatch. Thatch is the layer of dead leaves, grass, and roots that collects between living grass and the soil surface.
If your lawn has too much thatch, then Chinch bug populations can increase. The beneficial microbes in our
Compost-TEA
Fertilizer uses thatch for a food source, thereby helping reducing thatch. Healthy lawns can naturally withstand Chinch bugs infestation, and repair itself quite quickly. Our programs create a very healthy, balanced soils, which Chinch bugs do not prefer.
---
NECROTIC RING SPOT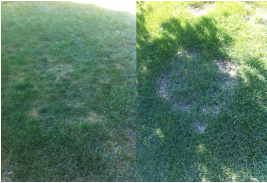 Necrotic ring spot is probably the most damaging disease that occurs on home lawns in Manitoba Necrotic ring spot is commonly found on sodded lawns in the first 5-7 years after establishment. Necrotic ring spot is caused by the fungus
Leptosphaeria korrae
Symptoms of the disease start as yellow patches. As the disease progresses, brown rings with healthy grass on the inside and outside develop. The turf in the approximately 10cm to 1m diameter rings can be pulled out easily because the roots and crowns are dead. Growth of Necrotic ring spot is promoted by wet conditions in the spring and autumn. Summer heat stress may intensify the symptoms of the disease.
Necrotic ring spot usually occurs where there are UNFAVOURABLE rooting conditions for the grass.
The best method of control is to establish a good turf root system by:
providing the necessary fertility requirements will promote root growth. (Our Compost-TEA applications are designed to promote healthy soils)


reducing the clay in the soil. (Our AERATION and TOP DRESSING top soil mixes and compost will enhance your soil)


irrigating deeply and infrequently.


mowing at a higher height .


overseeding with a quality seed containing Fescue grasses.

---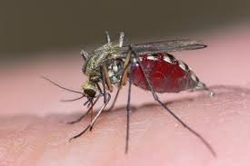 Organic Mosquito Control
We use an all natural mosquito killer and repellant. Our Mosquito Control is harmless to children, pets, and bees.

Each application of Mosquito Control kills and repels mosquito's for up to three weeks.

Organic Mosquito Control does not harm or repel

Bees, Butterflies, Lightning Bugs, Ladybugs, Cats, Dogs, Children, Reptiles, Amphibians, Fish, Pets

Organic Mosquito Control repels

Mosquitoes, Fleas, Ticks, Gnats, Geese, Grasshoppers, Chiggers
---
WEEDS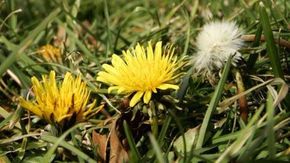 The province of Manitoba has passed legislation to reduce pesticide exposure to Manitobans. This ban went into effect in January of 2015 and Manitobans are only allowed to use bio-pesticides and organic methods to control weeds on their lawns. Why Do We Have Weeds?
Weeds are usually a good sign of
poor soil
quality
. Weeds are plants that let you know when weather, soil, light or other lawn maintenance programs are wrong. Dry, wet and compacted soils all encourage weed growth, If left unchecked, weeds will start seeding, spreading and multiplying throughout your landscape.
Property owners have relied on commercial herbicides in order to achieve weed and pest free beautiful landscapes. Unfortunately, these products have destroyed more than just the weeds and pests. Herbicides, pesticides and synthetic fertilizers have depleted our soils of crucial beneficial microorganisms, thus leaving our properties more susceptible to disease, drought stress, as well as pest and weed infestation, all of which are obvious signs of unbalanced and unhealthy soils.
Lawn Stylists Sustainable Solutions will provide your lawn with all the essential nutrients needed to promote proper and vigorous root growth. When our Sustainable Solutions are in place in combination with proper
lawn maintenance
, your lawn will naturally out compete weeds for nutrients, thus choking out unwanted weeds.
Natural weed control is actually quite easy. All you need is healthy soil, healthy grass, and proper
lawn maintenance
. Our Sustainable Solutions help create healthy balanced soil in your lawn and landscape by using high quality all natural nutrients and organics.
Lawn Stylists will slowly introduce a balance of beneficial soil organisms, along with quality organics and nutrients, your lawn will naturally take care of itself. Healthy well established lawns will naturally choke out any invasive weeds. We focus on the root system and soil biology not on the top growth (blade) of your grass. The fact is, by focusing on the soil health and structure, we can easily achieve more established, healthier root systems. Our Sustainable Solutions encourages healthy, deep root systems, which in turn, creates a healthier, greener, thicker, more resilient lawn. In time, your property will, in fact, be more drought, disease, pest and weed tolerant than it is today.
---