COMPOST TEA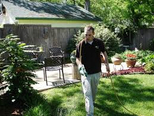 What is Compost Tea?

Compost Tea is a liquid extract of compost that enhances the microbial life of the soil. High quality compost is infused with water, aerated for a minimum of 24 hours and then sprayed as a foliar spray and soil drench. Compost Tea is used on golf courses, organic farms, orchards, and is now becoming more popular in sustainable organic lawn, landscape and tree care.


---
"Healthy plants" grow in soils that are vibrant and full of microbial life.

Compost Tea fertilizer is a signature component of Lawn Stylists Sustainable Solutions. We are pioneering the use of ACT (Aerated Compost Tea) in Winnipeg and the surrounding areas. Our Compost-TEA fertilizer is brewed right here in Winnipeg and contains various sources of organic matter such as earthworm castings.

We utilize a special large capacity brewer and our Compost-TEA is an actively aerated compost tea with the addition of an organic mater such humics, fish extract, and rock dust. We spray compost teas at application rates that effectively coat leaf surfaces and penetrate the soil.

The end result is our Compost-TEA improves soil structure, nutrient cycling, soil porosity, root depth, and long term soil health by continuously supply the roots with active microbes and organic matter throughout the growing season. These conditions lead to better plant growth, deeper roots and resistance to stress and diseases.